© Lena Hayashi Macaulay Library

© Lena Hayashi Macaulay Library

© Lena Hayashi Macaulay Library
_________________________________________________________________
FEBRUARY BIRD OF THE MONTH:
Spotted Towhee, Year-round resident
February 24, 2022, Observations

39 species, 283 individuals observed 
    It was very cold, but the morning was beautiful, clear, calm, and sunny, with snow-capped mountains in the distance. Temperatures ranged from 45 degrees to low 60s.  Surveyors were Lena Hayashi, Betty Kanne (eBird), Dave and Sharon Telford, Jim Kendall, Ellen Tipping, Barbara Wasbin and Laura K.
          Laura is one of the many hard-working volunteers at the Urban Forest.  She, Phil, and Robin have designed, built, and placed nesting boxes throughout the Urban Forest. Last year, Western Bluebirds and House Wrens took advantage of them and Laura is looking forward to attracting additional species in the coming years. It was a pleasure to have her join us and hear about all the things going on at the Urban Forest and to also have her experience how we go about counting birds here each month.
          We spotted a Golden-crowned Sparrow among about 30 White-crowns and two Fox Sparrows in the dense understory of a bush.  What a pleasure it is to be among fellow birders who love to spend the time to get good looks at birds and study their field marks and behavior.  It makes learning so enjoyable and easy.
          Enjoy the list below!
Rufous/Allen's Hummingbird

© Lena Hayashi Macaulay Library

© Lena Hayashi Macaulay Library

Number observed: 13

Number observed: 1


_________________________________________________________________
JANUARY BIRD OF THE MONTH:



White-crowned Sparrow
A most welcome and delightful winter resident! Our parks and yards spring to life in the fall with the sights and sounds of the returning White-crowned Sparrows. These sprightly beauties sing out their clear whistling, cadenced tune while gathering in small flocks to forage on the ground or in low shrubs. 

Like most sparrows these active, distinctively recognizable birds are thick-billed seed eaters and eagerly partake of the bounty of fall and winter seeding vegetation and backyard feeders. The adult birds sport very sharp looking black and white crown stripes, whereas their summer offspring retain chestnut and gray crown stripes until their spring departure. Watch and listen for these lively, energetic songbirds in your own yard and nearby parks. Enjoy their sprightly presence now, before their departure on the annual long flight to northern breeding grounds, typically starting the first week of May. – Photos by James Kendall
January 27, 2022, Observations

34 species, 250 individuals observed 
   It was a beautiful, clear, calm, and sunny day.  Temperatures ranged from low 50s to mid 60s.  Surveyors were Lena Hayashi, Betty Kanne, Dave and Sharon Telford, Jim Kendall, Jim Currie, Ellen Tipping, Clair Grozinger, Nancy Kapplemann, Maureen Myers, and Rick Shearer.
          Eleven of us started out together and split up at times to survey the beautiful grounds of the Urban Forest.  The usual suspects were seen for this time of year with a wintering Hermit Thrush sighted, White-crowned Sparrows, Ruby-crowned Kinglets, and Yellow-rumped Warblers.  It felt life a cool spring day but hopefully there will be more rainy days in February and the coming months.
© James Kendall Macaulay Library

© Lena Hayashi Macaulay Library

© James Kendall Macaulay Library

© James Kendall Macaulay Library

© James Kendall Macaulay Library

© James Kendall Macaulay Library

© James Kendall Macaulay Library

© James Kendall Macaulay Library

© James Kendall Macaulay Library

© James Kendall Macaulay Libra

© Lena Hayashi Macaulay Library

© James Kendall Macaulay Library

© James Kendall Macaulay Library

© James Kendall Macaulay Library

© James Kendall Macaulay Library

_________________________________________________________________
December 25, 2021, Observations

38 species observed, 372 individuals
Our thanks to Steve Morris for doing the Christmas bird count. The birders led by Lena Hayashi will return for the next count on Jan. 27, 2022.
Rufous/Allen's Hummingbird
___________________________________________________________________
November 2021 Observations
(Thanksgiving & the day after!)
29 species observed, 274 individuals
          Because the wind blew all night and by morning, it was a quandary to decide if the survey was a go or not.  Brave souls Jim Kendall and Dave Telford ventured out to check conditions.  Though they reported back that the wind was fierce, and we had decided to postpone the survey until Friday, Jim and Dave continued to bird for over two hours! 
          On Friday, Jim and Dave returned along with Lena Hayashi, Sharon Telford, Betty Kanne, Sandy Smith and Rick Shearer.  The lists are interesting to study.  It seems 110 Western Meadowlarks decided to hunker down together in the field on the windy day but only 6 were seen the next day, at around the same time in the morning.  Though 11 more species were seen on the calm day, there were 6 different species seen on the windy day.  The total number of species counted at UF on the two days was 35!
          It is always gratifying, but especially on holidays, when wonderful people come out to count birds and work the soil at the Urban Forest. The data collected from this citizen science activity will benefit the birds, wildlife, and the habitat.  What a gift for future generations to explore and enjoy nature!
NOVEMBER/DECEMBER BIRD OF THE MONTH:



Cedar Waxwings, a welcome wintertime spectacle
The ripening of red winter berries coincides with the arrival of large flocks of these dazzling beauties. Elegant Cedar Waxwings sport a rakish black mask and sleek pointed crest plus silky beige plumage tipped in waxy red and yellow. Listen for the high-pitched, trilled whistle as dozens descend from the treetops to feast on the festive red berries of the California native Toyon bush so very plentiful in the Urban Forest and throughout Huntington Central Park. It is an unforgettable wintertime spectacle.
___________________________________________________________________
October 28. 2021 Survey Results
Lena Hayashi, Jim Kendall, Dave and Sharon Telford, Betty Kanne, Jim Currie, Barbara Wasbin, and Nancy Kappelmann counted the UF birds on this clear, calm, sunny but cool, and beautiful day–60 degrees to start and a comfortable 73 degrees at the end.  Monday's rain added much-needed moisture to the dry fields and washed dust off the trees and bushes.  A highlight was seeing two female American Kestrels, shown below.  One was banded and probably the same one we saw earlier in the year.
As surveyors, we contribute to the science and knowledge of birds. At the same time, we enjoy the experience of learning and teaching each other new skills.  As the seasons change, so do the appearances of the birds.  Today, we heard both the American and Lesser Goldfinches.  They were in the same Sycamore tree.  To get an accurate count, the challenge was to look at each one and be able to identify each species.  Some males were fairly easy, but there were some complicated "tweeners" transitioning to winter plumage, that shared similar field marks.  We had a great time trying to decide which was what!  It is so much fun to have a group of birders who enjoy getting together each month to participate in citizen science, try to do a good job, and keep our minds sharp.  So what if we make mistakes and next year we forget and have to learn it again?  That's part of the fun friends have together.
OCTOBER/NOVEMBER BIRD OF THE MONTH:



Western Meadowlarks, field foragers
The Western Meadowlark is a beautiful, medium-sized bird that gathers in sizable flocks on the dry grassy fields surrounding the Urban Forest each winter. They arrive in October from their spring/summer breeding grounds and find strength and safety in numbers on the hilltop area as they collectively feed on insects and seeds at the ground level. The striking yellow and black underside plumage is very well camouflaged as they feed low in the field due to wing and back feathers perfectly colored to blend in with the brown, beige and tan grasses of the winter field. It takes a patient and attentive eye to survey the field and notice the presence of the flock due to this deceptive coloration. Yet, the astute observer will be rewarded when the whole flock is suddenly flushed into the air, revealing the bright yellow undersides and black necklace along with a flash of white at the edges of the tail. It's a joy to see and well worth the wait.
___________________________________________________________________
September 23, 2021 Survey Results
This survey marks the first anniversary of the "official" Urban Park Bird Survey!  What a wonderfully pleasant day with temperatures in the high 60s to low 70s, and clear skies with a slight breeze.  Surveyors Lena Hayashi, Jim Kendall, Jim Currie, Brenda Sabin, Dave and Sharon Telford, Claire Grozinger, Betty Kanne, and Kelly Coles went as one group, spending the first part of the morning looking for migrants in the corralled area of the Urban Forest.  We met Roger Schoedl who directed us to look in the horse corral below for a Brewer's Blackbird.  Though not officially within the Urban Forest, we decided to count it along with the House Sparrows and Red-winged Blackbirds with it.   
          White-crowned Sparrows are back for the winter as are the Blue-gray Gnatcatchers, Yellow-rumped Warblers, Say's Phoebes, and Ruby-crowned Kinglets.  As they vocalize all winter, their sounds will become so familiar to us, we may forget to notice them!  We also enjoyed seeing the Townsend's and Wilson's Warblers along with a flock of Western Bluebirds.  It is fun and rewarding to bird into the Fall as more birds pass through and some stop to winter.  We are excited to see what the next two months will bring into the Urban Forest.
          In September of 2020, 25 species were seen with 155 individuals.  Today, 33 species were seen with 327 individuals! Enjoy the checklist below and attached photos:
Number observed: 2
___________________________________________________________________
August 27, 2021 Survey Results
July 29, 2021 Survey Results
Thanks to Dave Telford, Jim Kendall, Betty Kanne, and Jim Currie for coming out this morning to conduct the monthly survey. It was a beautiful morning, clear, calm, in the low 70's with a light and cool ocean breeze. The begging calls of juvenile songbirds from last month were replaced by immature hawks. Two juvenile Cooper's Hawks were just outside on a wonderfully placed dead snag in the garden facing the stables and Goldenwest Street. After they called, they flew off, but not before we had the opportunity to take some great photos.  Many thanks to the volunteers who created that garden for people and wildlife to enjoy!
Later, as we were walking along the creek paralleling Ellis where the creek makes a 90-degree turn, we heard different hawk sounds in the sycamores. It took some time to find the first juvenile Cooper's Hawk in the foliage. As we watched its bill, we realized it was not the only one making those sounds. There were a total of three juvenile Cooper's Hawks!   
Hummingbirds were plentiful in the fragrant and beautifully colored butterfly gardens. What a delight it was for us to just stand and watch them feed as they flew from one flower to another.  However, there were probably as many Green Fruit Beetles as birds today. They are beautiful too! 
– Lena
24 species observed, 212 individuals
| | | |
| --- | --- | --- |
| © Lena Hayashi Macaulay Library | © Lena Hayashi Macaulay Library | © James Kendall Macaulay Library |
| © James Kendall Macaulay Library | © James Kendall Macaulay Library | © James Kendall Macaulay Library |
| | | |
| --- | --- | --- |
| © Lena Hayashi Macaulay Library | © James Kendall Macaulay Library | © James Kendall Macaulay Library |
| © James Kendall Macaulay Library | © James Kendall Macaulay Library | © James Kendall Macaulay Library |
| | |
| --- | --- |
| © Lena Hayashi Macaulay Library | © James Kendall Macaulay Library |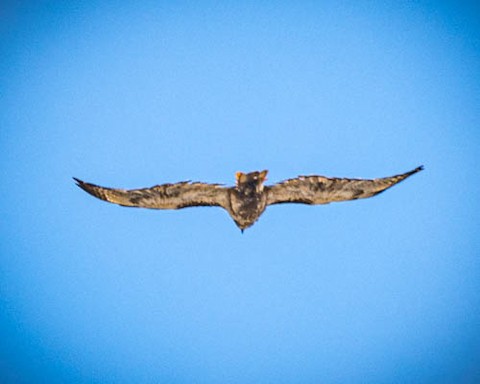 Cassin's/Western Kingbird
___________________________________________________________________
June 24, 2021 Survey Results
___________________________________________________________________
May 27, 2021 Survey Results